As I was wondering what to post about Grolla, I thought about her new Desperation (Verzweiglung) attack.
Why, because in the first web trial version ("hard" mode), she made me quite angry when I first encountered her. Slippy ground, it was already quite hard to escape her in the first part of the battle.
> Fù&$ youuu I can't dodge your jump slash !!
And then, with my sole and only cross-tank, she does THAT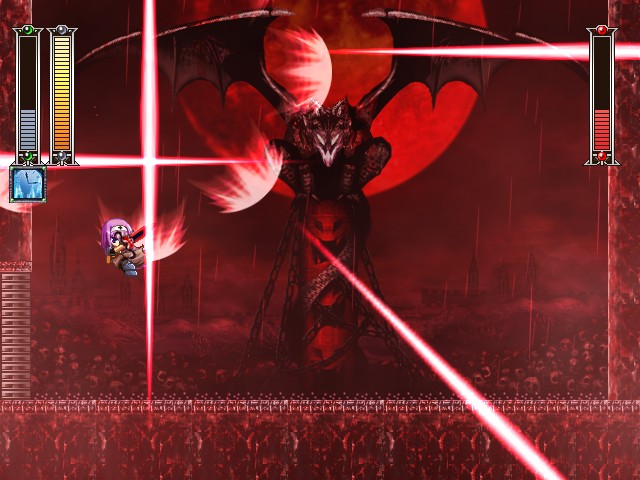 Let's call it
Crimson Star
or something. First thoughts: How am I supposed to dodge THAT on this ground ?! Red things come from everywhere !!
The first time I played it, she abused of that, using it multiple times in a row. Bloody hell, I said, Grolla you ARE spamming, now get back in the kitchen and be a good girl
And then of course, I was doomed
Maybe she heard me, what a sensible lady...
Well now, since we know what will come when she jumps like that, it's less fearfull of course.
And with a cooled-down head, you can dodge it easily. Just stand still when she casts this attack, and slide to avoid the last horizontal strike and the "Grollschwert" shockwaves. When you know how to stand at the time she jumps, the first diagonal hit always miss.
I made another snapshot, help me ZA WARUDOOO.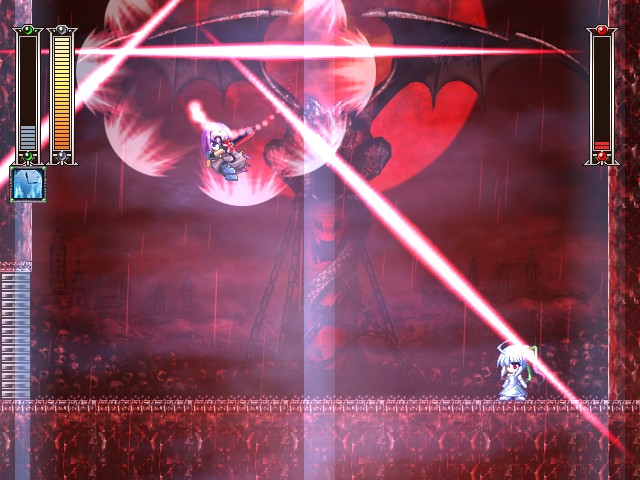 Nice hitbox: note that the ribbon is aliiiive and the end ! That was a close one. "Shineeeeeee" !
This may be the boss attack that surprised me the most, in this game (as well as her first desperate from RKS, of course, minus the slippy ground). The big Lust Atem from the second part of Luste's battle were also quite scary, I didn't expected that as well !
It's typically the kind of show-off skill that I love in these games, when you've seen it some times it's harmless, but the first fight: "wow, that's a cool move".
Sakuya's spellcard Killing Doll made the same sensations to me, in Touhou as wall as Megamari (which is quite close from RKS). After a hundred times you laught, the first time you cry. What the hell, how can you dodge all of these ?!? Of course, my alias comes mostly from that spellcard, it was a great gaming moment.
What did you think, when first playing this battle ? I thought it could be an interresting topic, as usual I may have been - a little - carried away